On her utterly unique debut, Sudan Archives stands tall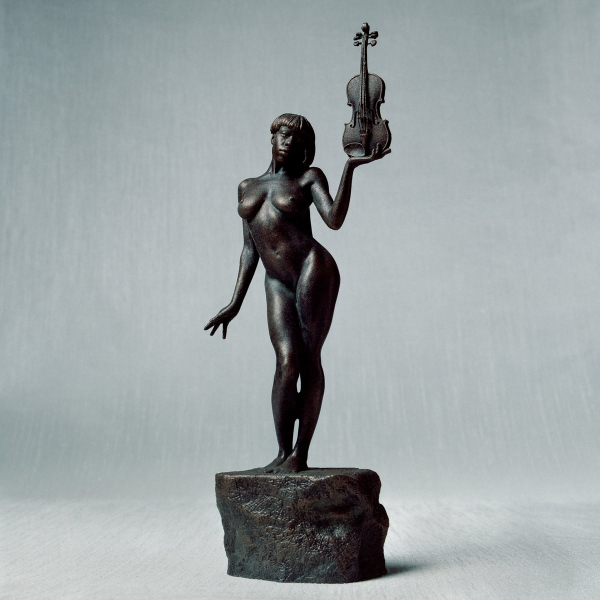 When Sudan Archives was ten years old, a group of fiddle players came in to play for her class at school.
The Cincinnati native - real name Brittney Parks - promptly begged her mum to buy her a violin, which she learned by ear playing in her local church choir. After graduating, Parks spent her days watching YouTube videos about West African folk music and experimenting with effect pedals and a digital loop station, forging a unique sound that she has honed across two EPs. Athena, Sudan Archives' first full-length release, is her boldest statement yet, the culmination of everywhere she's been and everything she's learned.
Sudan Archives' music has always been hard to pin down, but even more so than her earlier work, Athena is a smorgasbord of styles and sounds. As indebted to African electronic and folk pioneers like Francis Bebey and Asim Gorashi as it is to FKA Twigs and Erykah Badu, the album is a personal epic that seamlessly brings together all of her influences. The moody "Black Vivaldi Sonata" straddles the line between traditional and contemporary, featuring delicate pizzicato plucking laid over a sluggish trap beat.
It's on the strutting "Glorious" that Sudan's originality is most palpable. A soaring hybrid of electro-R&B, hip-hop and traditional Sudanese fiddle, the song finds Sudan and fellow Cincinnatian D-Eight acerbically worshipping the power of money. "Speak glory in the name of the dollar / Speak holy in the name of the father," he raps as Sudan beats the fingerboard of her violin, before fantasising about paying off her mum's debt and buying her a house.
Sudan evokes her parents throughout Athena, but it's her romantic relationships that are the album's through line. She sings about carnal desires and agonizing breakups with vulnerability and affection. Over the droning synths of '90s R&B-tinged "Green Eyes", Sudan arouses the nervous excitement of new love: "I never been with someone like you / Tell me, can we swim slow". Bracing, operatic strings score a withering relationship on "Iceland Moss" as she tells her partner that she's "tired of this silly dance". "Coming Up" is a refreshingly mature break-up song in which she sends off her ex with a smile, wishing him "sunny days, good luck and success".
Sudan radiates confidence on Athena, uniting distinct musical elements as if they belonged together all along. It's an album that sounds like nothing else. "I'm too unique to kneel", she sings atop the triumphant string arrangement of "Confessions". Powerful and poised, on her debut Sudan Archives stands tall.